Spoolex experience

Present on web processing equipment and accessories since 1955, Spoolex has given itself the means to match its ambition…

A web processing equipment manufacturer history
1955: Calemard's family created the company. The company manufactured textile warpers and slitters. Quickly, the company becomes international and starts exportation.
Always on the cutting edge of innovation, we start ultrasonic welding and cutting trials since 1972. As a result, we launch our first range of ultrasonic devices in 1975, today manufactured under our Decoup+ brand.
1982: we decide to stop warpers manufacturing to focus our activity on more technical applications such as nonwovens, tires or technical textiles.
In the 90's we launch Roll Concept and its famous Alveotube® alumium profiles.
Then Andlinger takes over the 3 companies in 2005 and merge them into Spoolex in 2010.
Spoolex, an innovative company
Spoolex has gained a strong expertise in optimized web processing equipment. Capitalizing on our leadership and with 5% of our turnover invested in Research & Development, we take technological risks every day. Our goal: to continue developing innovative solutions to better support our customers on their moving markets. Integrated teams and process experts combined with our customers trust, enable us to develop and create continually, and thus, to offer always more adapted solutions to market constraints.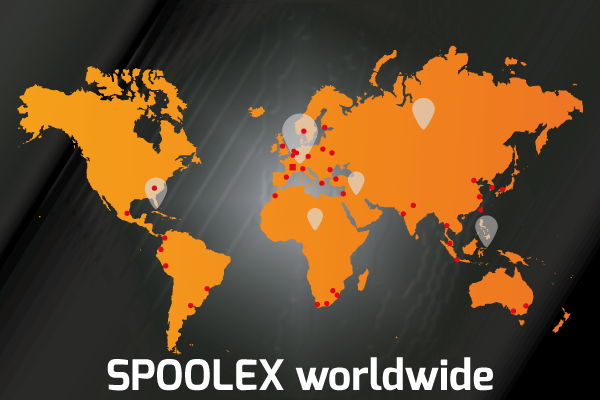 Spoolex worldwide presence
Our converting equipment and accessories are in production all over the world. They have been developed to run on hard weather conditions, even in dry or wet climate, even at low or high altitude. From Scandinavia to South Africa, from Americas to Australia, worldwide cutomers trust in Spoolex web processing equipment. Our Sales and Technical teams travel regularly all over the world to meet you. Take close to you is important. Thus, our international agents network keeps us close to you. Wherever you are, Asia, America, Africa, Europe or Oceania, don't hesitate to contact us to obtain your local contact details.
Spoolex is ISO certified
Because Quality and Safety is our priority!
ISO 9001 : 2015 is the International Standard for Quality Management Systems (QMS).
It provides our company with a set of principles that ensure a common sense approach to the management of our business activities to consistently achieve customer satisfaction.
ISO 45001: 2018 is the International Standard for

Occupational health and safety management systems.


It demonstrates our commitment to implement, maintain and improve the way in which we manage our Health and Safety system.